Currently, there is no respite from the rising tide of building material costs.
Chart 1 shows that the average year-over-year increase in two material cost indices released with Producer Price Index (PPI) results by the Bureau of Labor Statistics (BLS) is rising more than twice as fast as bid prices (i.e. +26.6% y/y vs +12.4%).
Chart 2 shows that 13 of the 15 major construction input indices released by the BLS posted double-digit year-over-year percentage increases in December 2021. After energy-related prices (c' i.e. +69.5% for asphalt; +67.4% for regular unleaded gasoline; and +54.9% for diesel fuel), the largest gain was + 58.9% for steel bars, plates and sections.
Aluminum Plant Shapes and Copper Wire & Cable weren't quite to the same degree, but +29.8% y/y and +20.7% y/y are not to be overlooked However,
The lumber cost index hit a huge high in June of last year, but then fell by about half. However, this respite seems to be over. In December, the softwood lumber PPI was +23.6% month-on-month; +39.9% over the last three months; and +12.6% year-on-year.
Compared to three years ago, the softwood lumber price index is +82.4%. Softwood lumber is also not the only forest product whose prices have risen disproportionately over the past three years. The 'particle board and oriented strand board (OSB)' index almost doubled, +95.2%.
Cluster charts 1 to 7 show the historical monthly construction input price indexes from January 2000 to present. Each of the seven cluster tables focuses on one product category – for example, forest products; cement and related products; base metal products; energy related products; etc
The theoretical basis of PPI indices is that they monitor the prices of products as they leave the factory gates or other production sites.
Strong rises in the curves over the past year or so are evident in all cluster charts. (The array of cement and brick clusters is perhaps the most understated, but even there the clay brick has lately bowed upwards with more emphasis.)
The Group 2 chart for steel products shows some truly astonishing increases among its four sub-charts, especially for "steel pipes and tubes".
Clustered charts 6 and 7 show startling price spikes for inputs that generally rise quietly, including 'flat glass', 'lighting fixtures', 'elevators and escalators', 'heating equipment and "air conditioning equipment".
Table 1 presents more detailed results for a multitude of construction inputs, as well as some "structure type" groupings. From this point of view, the bluish and ocher sections of Table 1 are the most interesting. In the blue section, bid prices for warehouse buildings increased the most year over year, +20.5%. In the blue section, entry increases for all serviced structure types range from +15% to +20% year over year.
Table 2 shows that the prices of Canadian materials and other construction inputs are rising just as dramatically as most of their counterparts in Statistics Canada's Industrial Product Price Index (IPPI) series in the United States. United is the ideological equivalent of the IPP series in the United States.
Chart 1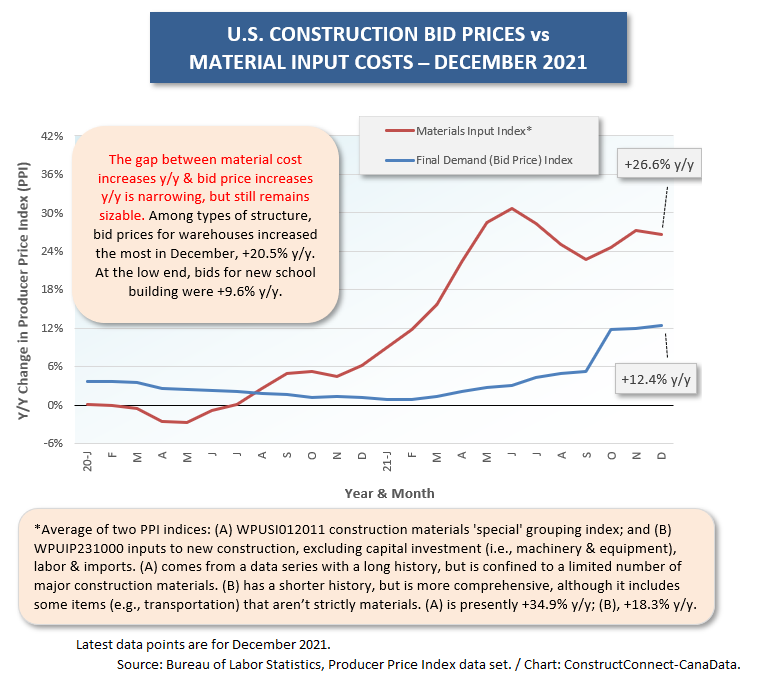 Chart 2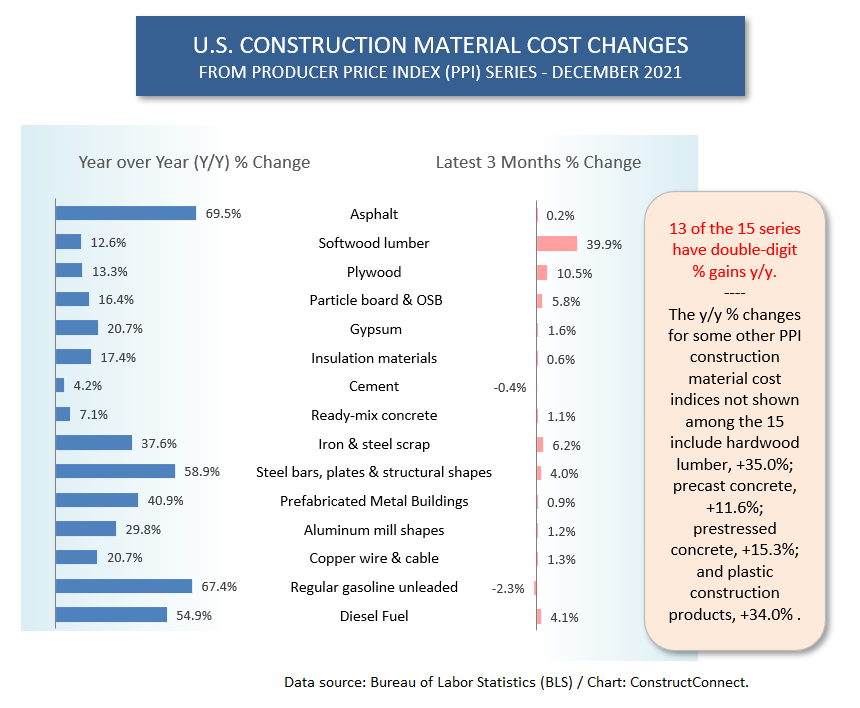 Cluster table 1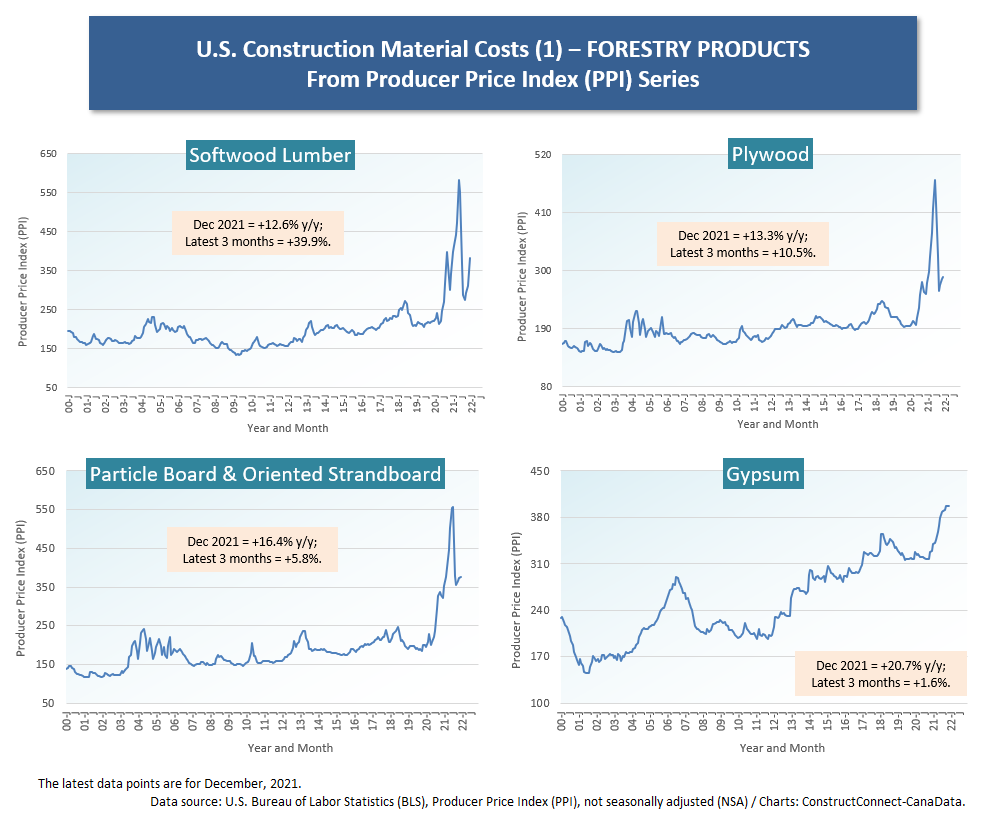 Cluster table 2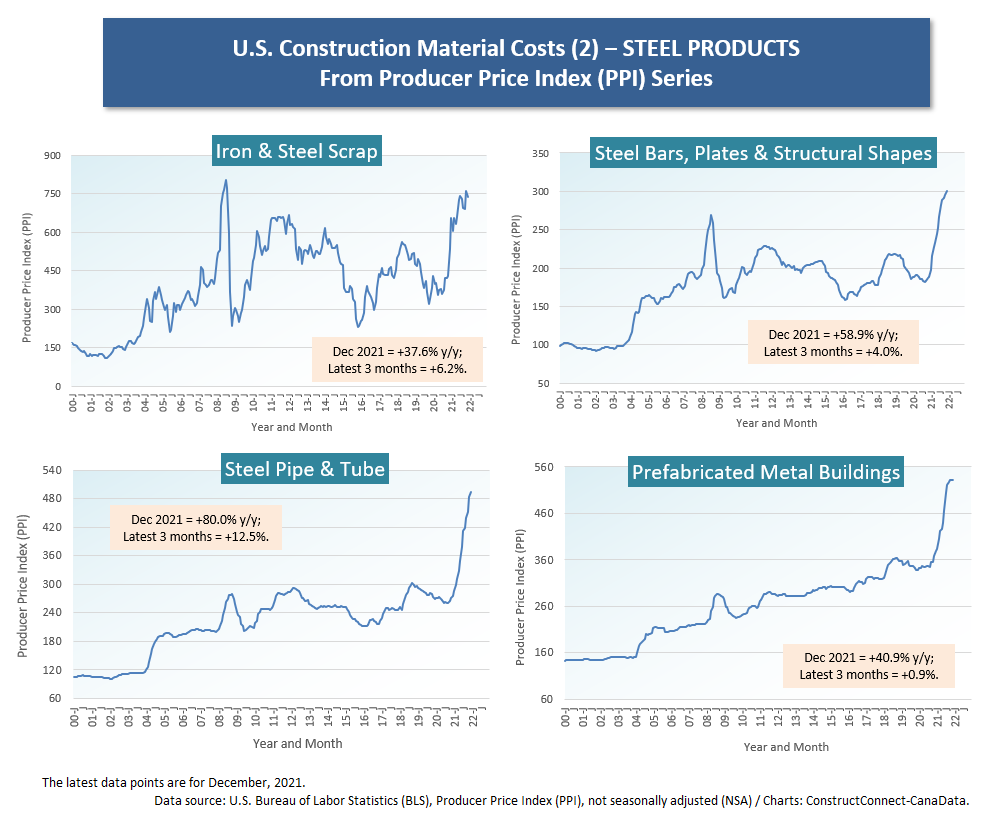 Cluster Table 3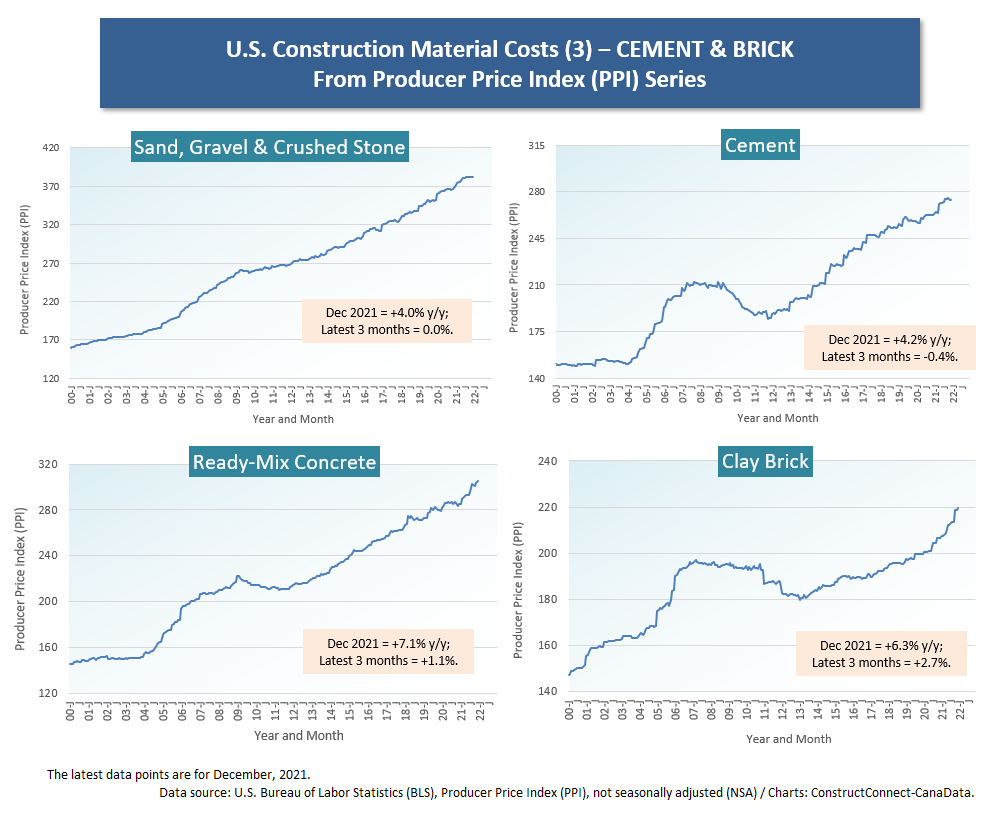 Cluster table 4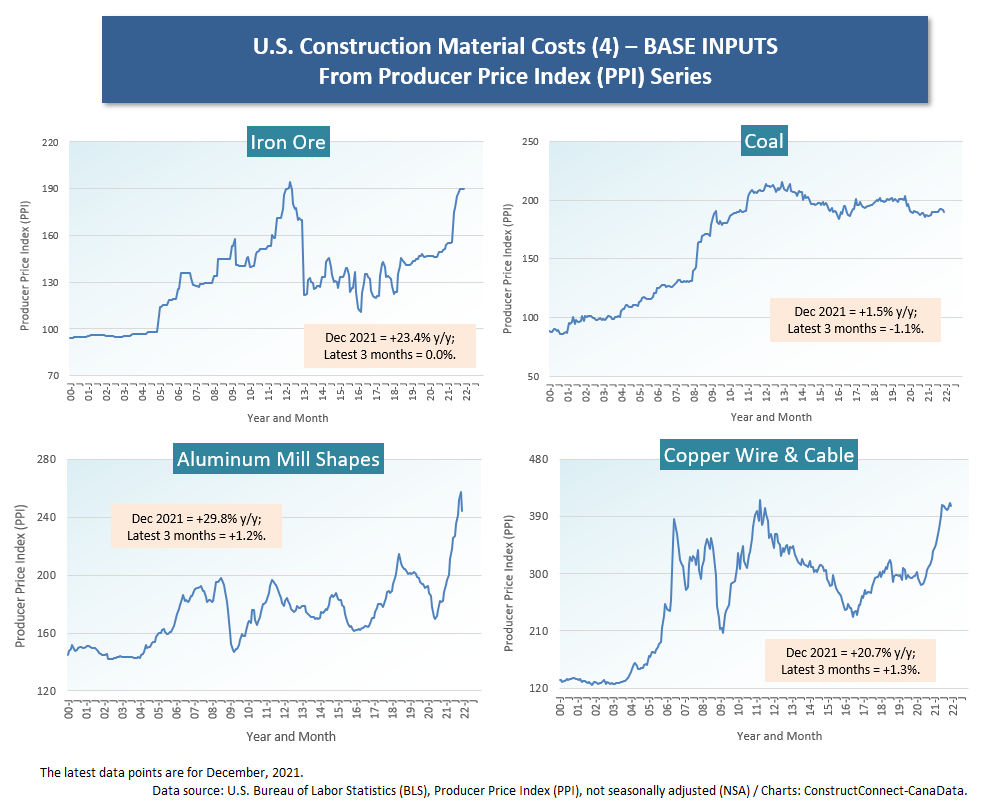 Cluster table 5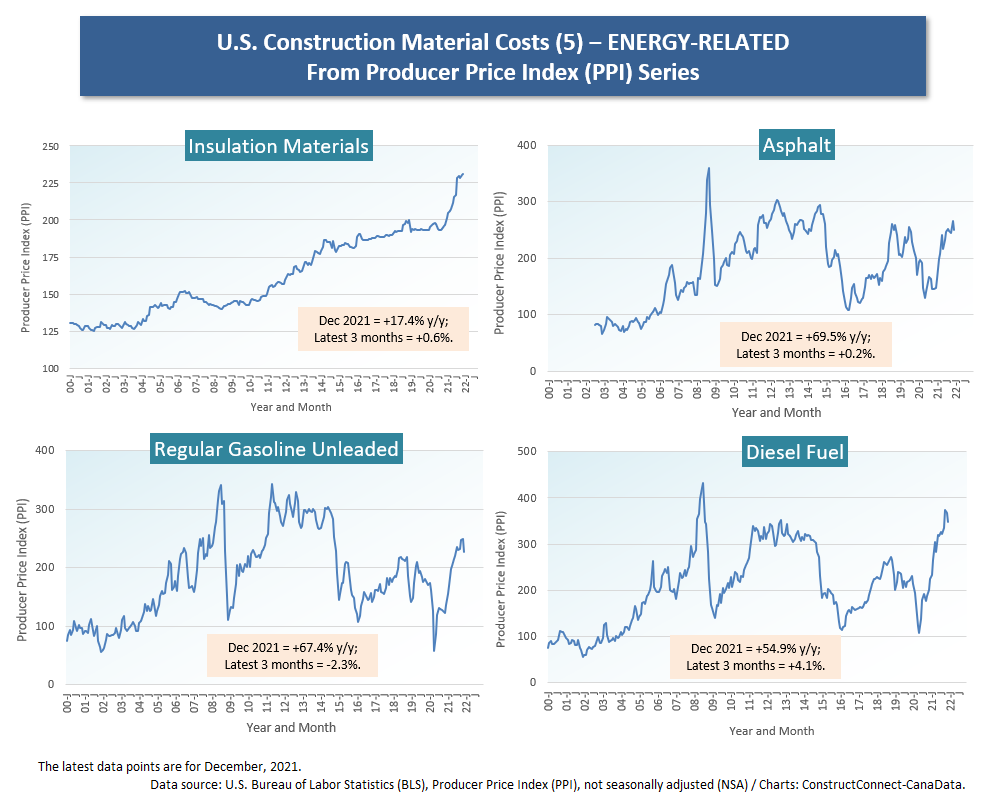 Cluster table 6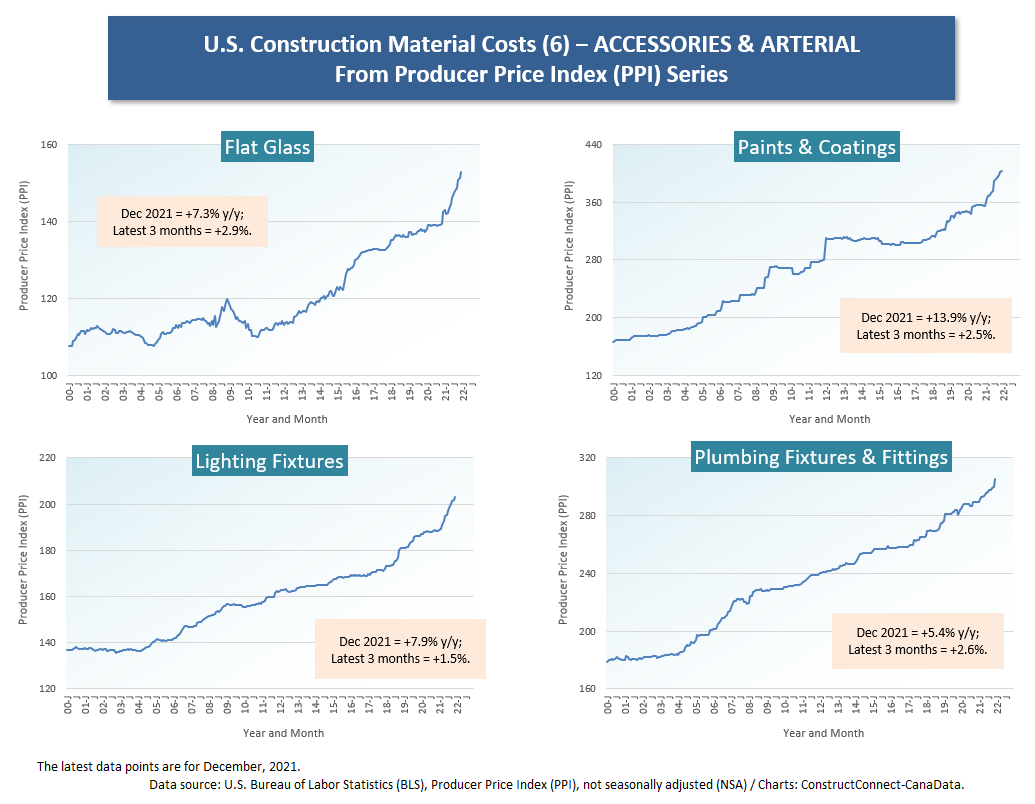 Cluster table 7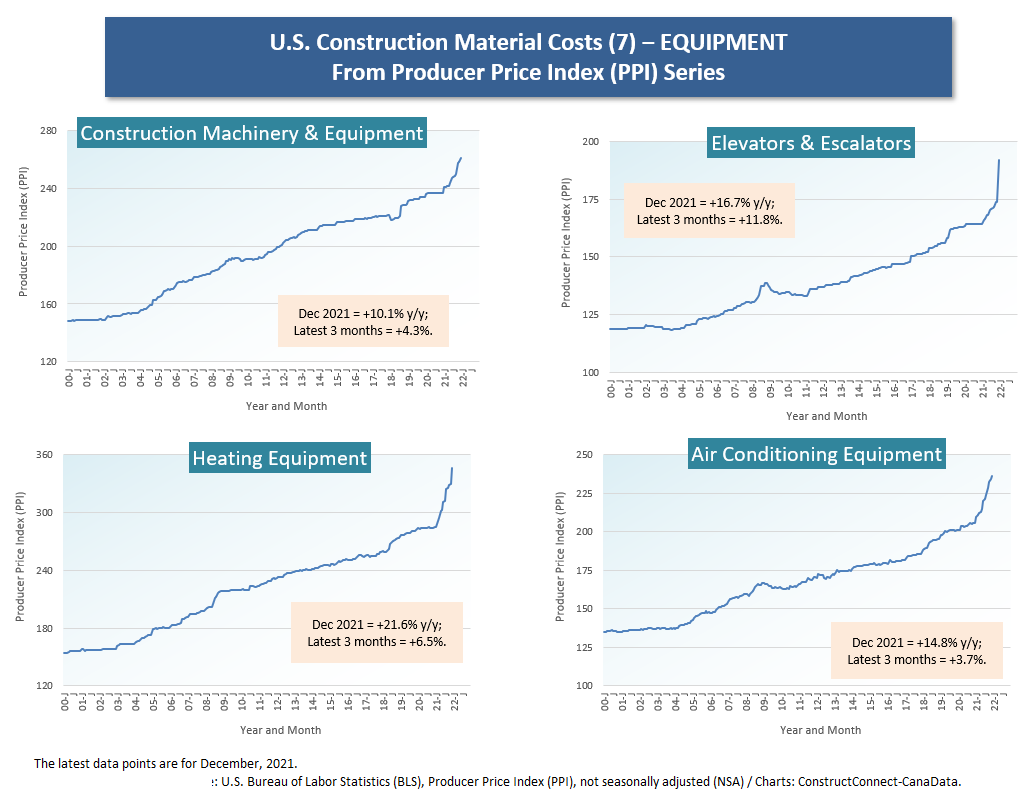 Table 1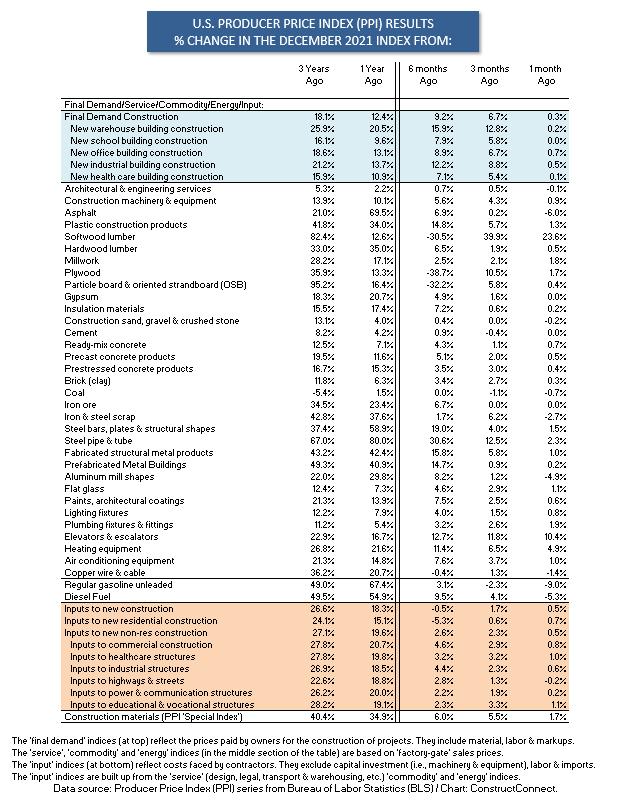 Table 2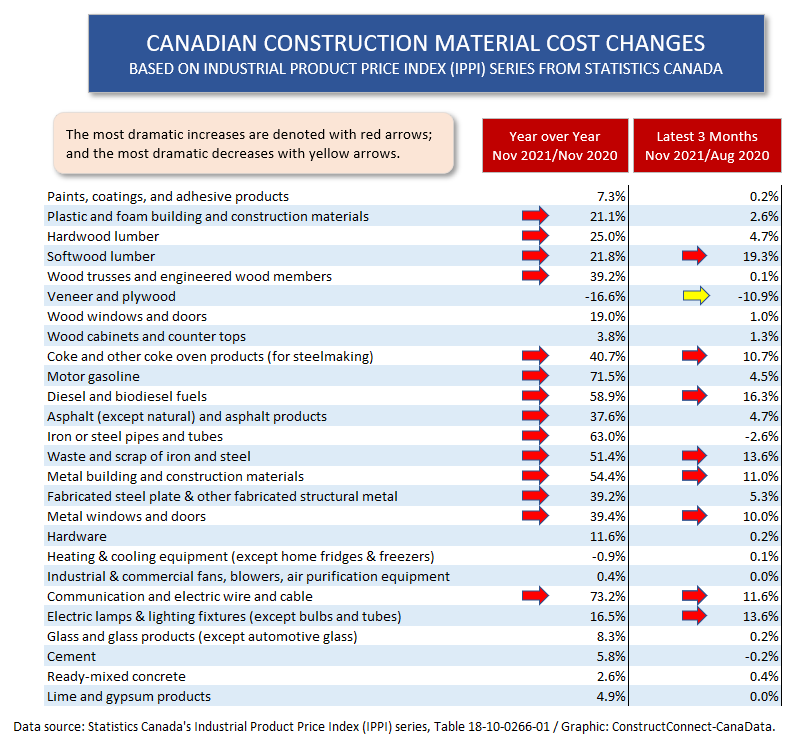 ---
Alex Carrick is chief economist for ConstructConnect. He has given presentations throughout North America on construction prospects in the United States, Canada and around the world. Mr. Carrick has been with the company since 1985. Links to his many articles are posted on Twitter @ConstructConnx, which has 50,000 subscribers.